Thursday, July 31, 2014
Posted

By

Henry Barajas on

Thu, Jul 31, 2014

at

4:07 PM

Tesla Motors

has been searching for a place to call its gigafactory home, and it looks the American electric car manufacturer might have made its final decision. A "contributor" to

Forbes

and the Reno Gazette-Journal are reporting that Tesla has acquired a

evacuation and surface air permit

in Reno, NV. But there hasn't been official word from Tesla.

From

RGJ

:
The work is being done at the Tahoe-Reno Industrial Center in Storey County, just east of the Reno-Sparks area. The Reno Gazette-Journal was the first to report in June that Tesla was likely the company working on the land at the industrial center.
Thursday, The Daily
quoted the Mayor Jonathan Rothschild's plead
to Tesla "Attached is a City of Tucson permit, ready for your signature."
If Rothschild's memo and Tony Ford's video doesn't work then I don't know what will.
Posted

By

Henry Barajas on

Thu, Jul 31, 2014

at

11:00 AM
Photo courtesy of whatever corporate umbrella that owns Spongebob.
Some of us are remember watching the first episode of Spongebob Squarepants the night it aired after the 1999 Kids' Choice Awards. It's one of the most lucrative properties that Nickelodeon has ever produced. I'll go out on a limb and say Spongebob influenced cartoons like Adventure Time and Regular Show.
I don't know if I'm buying this 3D gimmick, but I realize this movie wasn't made for me. This is one is for the kids that are fortunate enough to mooch off their parent's cable subscription.
Nonetheless, if you're still a fan or a parent that's forced to watch this show, here's the latest trailer for the upcoming full length motion picture starring that sponge that lives in a pineapple under the sea.
Posted

By

David Safier on

Thu, Jul 31, 2014

at

10:00 AM
John Huppenthal is clearly the victim here. Just ask him, he'll tell you, as he did on the John C. Scott radio show last week.


"The interpretation of those blog comments was the exact opposite of what I was trying to communicate."

"All those scholarly posts [of mine] have disappeared. There has been a massive cutting out of what I put into that blog."

"They were pouring boiling oil on me in that blog! Occasionally I responded with a snarky, inappropriate retort to them, to get a reaction out of them."
Let's take a look at those three assertions, one by one.
I'm not sure how you can misinterpret statements that say people on public assistance are "lazy pigs," the Mexican American Studies program is the equivalent of the KKK and its teachers are skin heads, and "We all need to stomp out balkanization. No spanish radio stations, no spanish billboards, no spanish tv stations, no spanish newspapers. This is America, speak English."
Huppenthal went to some lengths on the radio show to explain that his statements were misinterpreted. For instance, his "speak English" tirade was simply him getting emotional about the need for Hispanics to learn English if they want to get ahead. He said it upsets him when he sees billboards in Spanish when he's driving home from work.
"I'm going like, how are these children going to get a command of the English language if they can grow up in a community without ever knowing English?"
Posted

By

Britt Hanson on

Thu, Jul 31, 2014

at

9:00 AM

Suppose that you stumbled upon ancient scripts—at least, you are pretty sure that it is writing because the characters are laid out in rows, like modern writing, but the characters are completely unknown to you or anyone else. Archaeologists have given a name to the very sophisticated civilization that left the scripts, but they have no idea what language they spoke or what cultures might have succeeded this civilization. How would you go about figuring out what the scripts said? Could you?

That was the challenge that faced scholars when, on the island of Crete, Sir Arthur Evans found around 2,000 clay tablets, dated to 15th century B.C., filled with mysterious characters.


Wednesday, July 30, 2014
Posted

By

Henry Barajas on

Wed, Jul 30, 2014

at

1:00 PM



Candidates for Oro Valley mayor and town council have agreed to participate in a forum Wednesday, July 30, at the Oro Valley Church of the Nazarene, 500 W. Calle Concordia.

The public is welcome to attend the free event, presented by the Greater Oro Valley Chamber of Commerce. Doors open at 5 p.m., giving guests one hour to meet casually with the candidates. The question-and-answer portion runs from 6 to 8 p.m. in the church's sanctuary.

Incumbent Mayor Satish Hiremath and challenger Pat Straney are first on stage, answering questions from Chamber President / CEO Dave Perry and Thelma Grimes, editor of The Explorer and Inside Tucson Business.

Following the mayoral debate, town council candidates Don Bristow, and incumbent council members Joe Hornat, Mary Snider and Vice Mayor Lou Waters field questions.

There will be no questions from the audience. Grimes is soliciting questions from Explorer readers, and some of those may be asked during the evening. A brief presentation on the home rule question is also planned.

Residents who want to submit questions can email them to Thelma Grimes at thelma@tucsonlocalmedia.com.

Oro Valley voters make decisions on their elected leadership at the Aug. 26 primary. In addition to the mayor's slot, there are three council seats on the ballot. If majorities are not established in August, voters may face the decisions again in November.

Church of the Nazarene is west of Canyon del Oro High School.

For information on the forum, call 297-2191, or email dave@orovalleychamber.com.

Watch the debate after the jump.
Posted

By

Henry Barajas on

Wed, Jul 30, 2014

at

12:00 PM

I'm a fan of the idea that people aren't made cool, but it's in their genes. The dog you're about to adore for the next 37 seconds is cool for an usual reason. It's not because of his breed, or his facial expression. This UK dog has an unorthodox brake method for a seemingly healthy looking pup. You have thank

Reddit

for these unusual video finds.
Posted

By

David Safier on

Wed, Jul 30, 2014

at

9:00 AM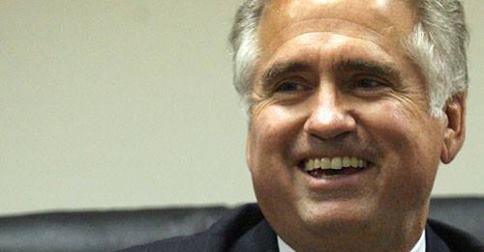 Poor John Huppenthal. OK, I didn't mean that, he deserves everything he's been getting lately. But the poor guy (didn't mean it that time either) can't catch a break. First, there are all those vile blog comments he made. Then there's the Common Core. His ardent, oft-stated support for what he's redubbed the "College and Career Ready Standards" will probably do him more harm in the primary than his blog comments, like the one calling people on public assistance "lazy pigs." The right wingers who always vote in large numbers in primaries are likely to be saying "Go John!" about the "lazy pigs" thing, but they hate the Common Core. So does Diane Douglas, Hupp's opponent in the Republican primary. He's got himself a problem.
Huppenthal went on the John C. Scott radio show last week, and he talked about Common Core. (He also talked about his prolific blog commenting, but that will have to wait for another post.) Sounds like Hupp has gone from a believer to an agnostic when it comes to Common Core. He's become an "I agree with all of you" kind of guy. On the one hand, he supports the standards, but on the other hand, "[W]hen you say I support Common Core, I would respectfully disagree."
According to the new Huppenthal, there are two definitions for Common Core.


"Here's the issue. There's two definitions of Common Core. There's a set of great standards that were created by Craig Barrett and the Achieve organization, and then there's another definition. That other definition is, it's a defamation of our Founding Fathers, it is an unbalanced debate and indoctrination into one side of the science debate. Instead of having a true scientific inquiry into climate change, it's an indoctrination. . . . So when you say I support Common Core, I would respectfully disagree. I am absolutely 100 percent opposed to that definition of Common Core."
Tuesday, July 29, 2014
Posted

By

Mari Herreras on

Tue, Jul 29, 2014

at

7:53 PM

According to the Multidisciplinary Association for Psychedelic Studies, the UA denied Sue Sisley's administrative appeal for reinstatement yesterday in a letter she received from Andrew Comrie, UA senior vice president for academic affairs and provost.

Here is a link to the letter from the UA:

Appeal-of-Nonrenewal-of-Faculty-Title.pdf

In a press release issued in response this morning by MAPS, Sisley's research sponsor:
The rejection of Dr. Sisley's appeal came as no surprise to Dr. Sisley or to the Multidisciplinary Association for Psychedelic Studies (MAPS), the non-profit sponsor of Dr. Sisley's planned study of marijuana for symptoms of posttraumatic stress disorder (PTSD) in 70 U.S. veterans. MAPS will continue standing by Dr. Sisley in her efforts to find a suitable location for the study at another university, hopefully in Arizona.

Prior to the rejection, University of Arizona lawyers suggested the appeal was highly unlikely to result in a reversal since Dr. Sisley was appealing to the same people who had originally terminated her appointment.

Dr. Sisley's legal team is now exploring a variety of options, primarily finding a safe and secure home in Arizona for the research. With no more possibility for reinstatement at the University of Arizona, MAPS will move the research to another university where Dr. Sisley can continue to function as the Principal Investigator. Were it not for Dr. Sisley's efforts to obtain regulatory approval over the past four years, this research would not exist.

On August 7, 2014, at the Arizona Board of Regents Executive Committee meeting, veterans, University of Arizona community members, and others will speak on behalf of Dr. Sisley, encouraging the Board of Regents to help her find a home for the study. Speakers will urge the Board of Regents to show true leadership by permitting either Arizona State University or Northern Arizona University to work with Dr. Sisley, if they choose to do so, in order to allow this vital research to remain in Arizona.

Additionally, it is important to correct misinformation in the July 28 letter from the University of Arizona to Dr. Sisley. In the letter, the university reports that the Arizona Department of Health Services (ADHS) grant was slated for completion in September 2014. This is false. The fully funded ADHS grant was projected to run at least two years starting January 2014/with The primary goal was to provide education about the various uses of medical marijuana to physicians statewide utilizing the educational tools created over the first six months of the grant. The University of Arizona's abrupt termination of the grant and of Dr. Sisley's position forced the cancellation of over 100 lectures to physicians across Arizona that had been scheduled through February 2015.