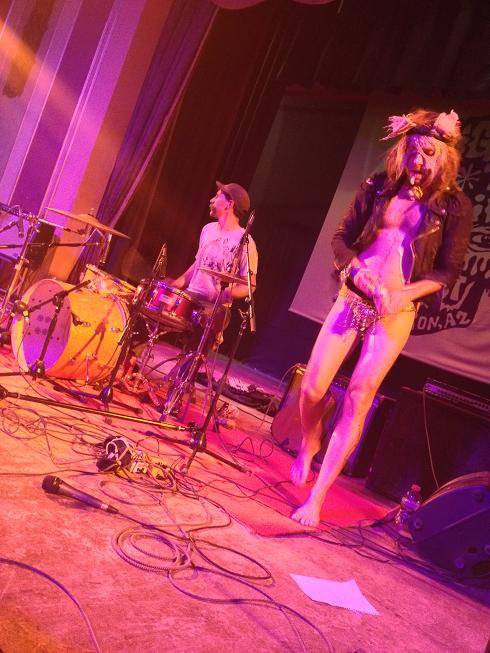 Dusty Rose
NOBUNNY at Night of the Living Fest
Saturday's Night of the Living Fest brought downtown Tucson to Old Tucson. There were old people, young people, hipsters, people who use the word "hipster," and so on. Everyone I know had a great time. Even the cops politely chatting with me in the BBQ place were smiling. But things sometimes happen to change those circumstances, and those cops ceased to be chipper a short time later, at the tail end of NOBUNNY's show-stopping performance.
NOBUNNY is a former Tucsonan (now based in the Bay Area) whose work simultaneously celebrates and satirizes the confrontational ethos of the earliest punk music; the artwork for his 2008 debut, Love Visions, featured him, in his corrosive rabbit mask and tiny black leather jacket, leaning up against a brick wall that was very similar to the one The Ramones posed by for their 1976 debut album. NOBUNNY's music operates in the same way — short, fast, tuneful anthems that are great punk songs and great punk song parodies, some examples being "NOBUNNY Loves You," "I Am a Girlfriend," and "Blow Dumb."
For whatever reason, by the end of his set on Saturday night, there was a gang of police officers and security guards on the side of the stage where NOBUNNY was performing. It was his last song, his voice was hoarse, he had already vomited onstage and then poured a full can of beer down his underwear; the atmosphere was getting tense. In the middle of the last song, he directed his band to turn down the volume. He faced the audience. "What would you do if there were no laws? If there were no consequences," he seethed, "what would you do?" He walked a couple of dramatic steps over to the line of law enforcement on his stage-right, leaned down, and pointed his finger inches away from their faces. "And what would YOU do if you could shoot anyone you wanted to, and could get away with it?" But that was less of a question than a challenge. It was a threat. At that point, NOBUNNY crossed the line from satire into provocation. The answer to his question was somewhat obvious: in many cases, the police act as though they are above the law, and it's reasonable to assume that they did not want to look foolish and powerless in front of a room filled with hundreds of people by a deranged singer wearing nothing but a thong and a rabbit mask. It looked like anything could happen. Would the show be stopped? Would NOBUNNY be beat up by cops in front of everyone? Would there be a riot?
He let this dangerous moment linger uncomfortably long; a few seconds felt like eternity. He walked back to the front of the stage and faced his audience. "Do you know what I would do?" he asked. "I would say 'la-la-la-la-la!'" The audience followed suit with an innocent chant of la-la-la's. And with that, NOBUNNY made a punchline out of punk provocation and the idea that music can be dangerous. But for an extraordinarily brief time, it actually was.