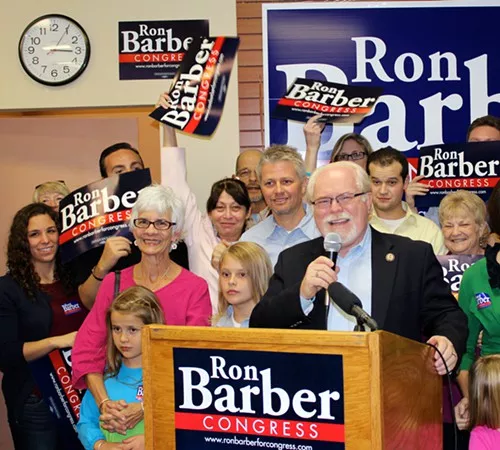 Congressman Ron Barber: "We have many important decisions to make, and in order to make those decisions and do what's right, we have to find compromise and we have to find bipartisanship."
In a room packed with roughly 200 supporters, Congressman Ron Barber declared victory on Saturday afternoon.
"It's been a long wait, but here we are," Barber told the crowd just after 3 p.m. "I want to thank you all for coming out and helping us celebrate today."
An hour earlier across town, Republican challenger Martha McSally had conceded the race to Barber.
Republican Martha McSally compared the lengthy vote count to running the Iron Man triathlon "and coming up on the finish line, only to find out you had to run another 10K."
With a small group of supporters standing off to the side, McSally told reporters that in-between singing "The Star-Spangled Banner" at a few El Tour de Tucson events, she had called Barber "to congratulate him on representing the people of Southern Arizona."
The twin speeches brought an end to a race that had run into overtime as officials in both Cochise and Pima county tabulated ballots. Although Barber had taken an early lead when the first ballots were counted on Election Day, McSally had roared in from behind and led the race by more than a thousand votes on the day after the election.
Over the next few days, the vote count moved back and forth, with Barber gaining ground as Pima County completed a batch of ballots and McSally retaking the lead when Cochise County tabulated its ballots. On Friday, Nov. 9, McSally's lead was a mere 36 votes.
Barber took the lead on Saturday, Nov. 10, and hung onto it from that point forward. When Cochise County finished counting its ballots on Thursday, Nov. 15, Barber had a lead of 709 votes. When Pima County finished its first major count of provisional ballots on Friday, Nov. 16, his lead climbed to 1,402 ballots.
Although Pima County still has 14,000 provisional ballots to count, McSally saw the trend was moving in Barber's direction.
"We came so close," said McSally, a former Air Force combat pilot who had been stationed at Davis-Monthan between deployments.
McSally said the tight finish "reminds me of running the Iron Man triathlon … and coming up on the finish line, only to find out you had to run another 10K. It's horrible feeling, but I'll tell you: Our team and everybody who's been supporting us through the last 11 days has been extraordinary."
At Barber's campaign headquarters, a jubilant crowd of supporters chanted "We Want Ron!" as Barber entered the room.
Barber thanked his wife, Nancy, and their family for their support and praised his campaign team and volunteers for the effort they put forth in getting him across the finish line.
"I'm deeply grateful to everyone who supported me in this campaign," Barber said.
Barber, a former aide to Gabby Giffords who was first elected to Congress in a June special election to complete Giffords' term, said much work remained to be done in Washington.
"With the campaign over, I'm getting back to work," said Barber, who had just returned from Washington on Friday night.
He said after Thanksgiving, he'd be returning to D.C. to take up work "that has unfortunately been left too long undone. We have many important decisions to make, and in order to make those decisions and do what's right, we have to find compromise and we have to find bipartisanship. That's the only way we're going to get this job done."
Barber said he wanted to return to the Armed Services Committee to continue to support benefits for veterans and said would continue to fight to preserve tax cuts for middle-class Americans while supporting a hike on the wealthiest as part of a budget deal.
He also said he would continue to fight for "a woman's right for equal pay for equal work and a woman's right to health care that does not treat her gender like a pre-existing condition and we absolutely must protect a woman's right to make her own health-care decisions."
He called on his volunteers to remain engaged.
"I cannot do the things we have been talking about alone," Barber said. "I need the continued engagement of all of you. You are very active citizens but you need to say active. The campaign is over but the work is just beginning."
Asked what was next for her, McSally said she hoped a good night's sleep and then take a hike on Mount Wrightson with her dog, Penelope.
"I'm going to continue to serve and continue to make a difference," McSally said. "I don't know exactly that that is, but I look forward to finding out what seeking out what the next steps are. I want to live every day like it's my last and make a difference in my community and my nation."

She said she had not yet decided whether to seek a rematch in 2014.
"Let's get through Thanksgiving, OK?" McSally said with a laugh. "I don't want to rule anything out, but I really don't want to talk about it right now."