The Pima County Republican Party moved its Election Night festivities from the Viscount Suites Hotel this year to the Sheraton on Grant Road.
Apparently, whoever they booked the event with didn't expect many people to show up.
Only about 25 percent of the floor space had chairs when doors opened at 5 p.m., but by 5:30, there were people sitting on the floor.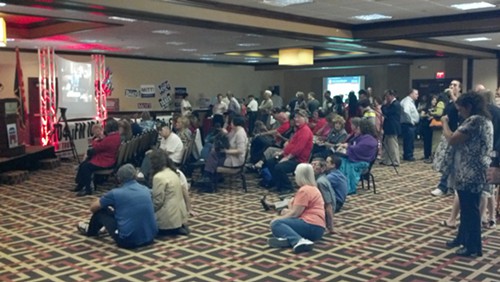 Roughly 300 people have crowded into a second-floor ballroom as of 6 p.m., and hotel staff are frantically searching for additional chairs to accommodate the larger-than-expected crowd.
Other early observations from the GOP event:
* District 2 Congressional candidate Martha McSally wins the First Person With Something Actually On The Line Tonight To Arrive award. She's currently doing the TV-reporter gauntlet.
* Not surprisingly, both projection screens are tuned to Fox News.
* The lobby includes a table for event co-sponsor 104.1 FM, a folk/rock band called Class Six, and a cash bar (no freebies !!!!!)