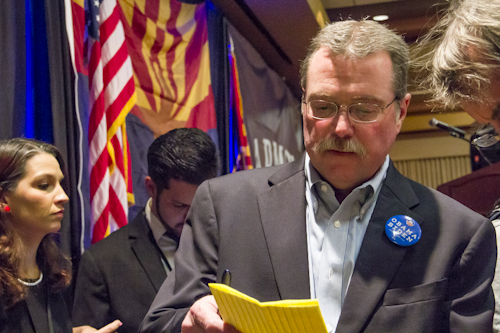 Big cheers erupted moments ago at the Marriott as Pima County Democratic Party Chairman Jeff Rogers read off some early results in the local races for the Arizona Legislature.
Rogers reminded the crowd that he had promised on last week's Political Roundtable to shave off his mustache if Republican Frank Antenori beat Democrat Dave Bradley in the Arizona Senate race in Legislative District 10.
He then announced the first vote count from that race: Bradley 25,631, Antenori 20,076.
The mustache looks safe for now.
Dems also lead in the LD10 House race.
In Legislative District 9, Democrat Steve Farley has a big lead over Republican Tyler Mott. The LD9 House race is closer, with Republican Ethan Orr trailing Mohur Sarah Sidhwa by just a few hundred votes.
"These are the most important House districts in in Pima County," Rogers said. "We need to win those."