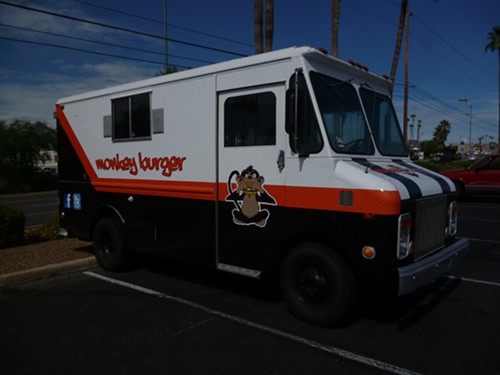 Did it start when Adam Richman came to Tucson and got schooled by Lindy's on Fourth? Right about that time burger joints started popping up everywhere. Culver's, Five Guys Burgers and Fries, Freddy's Frozen Custard and Steakburgers, Monkey Burger, not in that order.
Gourmet, fast-food, grass-fed, slider, food truck, Eat-a-Burger (coolest people ever), Zinburger, veggie burger. A sandwich by definition; an icon by extension. And Tucson can't get enough of it.
I bring this up because the new Five Guys Burger and Fries is now slinging burgers south of the corner of Ina and Thornydale, just across the bridge from Tucson's first Culver's, which is totally packed with customers every time I drive past. If you do drive past it, however, never fear: Freddy's Frozen Custard and Steakburgers is just down the road. There's a Wendy's down there, too. Pick your poison.
Elsewhere: Diablo Burger, a Flagstaff joint that wants in on the redevelopment of downtown, is setting up shop in the 300 block of E. Congress St. By all accounts, Diablo Burger serves up a serious version of the American hamburger made with top-notch ingredients. They also have a burger named after Big Daddy Kane. If that means nothing to you I cannot help you. This can.
Also: Smashburgers. Soon. Original estimates said the place was to open in December, but in a rare reversal of normal restaurant-opening tradition, it looks like the moving date has actually been moved up to November.
"In a marketplace that is already crowded with burger restaurants, we think Smashburger stands out because it offers so much more than just a great burger," says operator, Eric Wolf. "Although our burgers are fantastic, we also offer grilled and crispy chicken sandwiches, black bean burgers, and scrumptious salads".
Lots of burgers to be had, but I still think the best ones in town are at Boondocks Lounge. That is all.