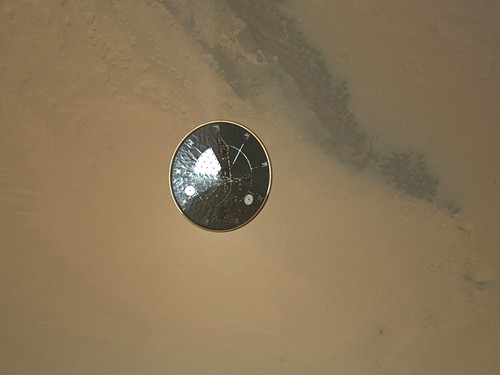 Curiosity snapped this shot of its separated heat shield during its descent onto Mars
The Mars Curiosity team took to Reddit to discuss the latest on the mission yesterday. Talking Points Memo has the takeaways:


NASA scientists have been understandably proud of performing the most accurate landing of an unmanned robotic spacecraft yet, with the Mars Curiosity Rover touching down just one-and-a-half miles away from its precise landing target, an amazing feat given the sheer complexity and unaccountable factors involved in descent, such as Martian weather.

The pride makes even more sense now, given the Curiosity team's admission on Reddit that the rover is unlikely to ever leave the area immediately surrounding its landing site, a 96-mile-wide depression known as Gale Crater, which scientists believe could have retained liquid water — and thus, offered increased chances of supporting life — on ancient Mars.

As Steve Collins, the rover's cruise altitude and control systems engineer, wrote in response to a user question: "Probably won't leave Gale crater. It's huge! and there is plenty of interesting science to do there."

Specifically, NASA is aiming to drive the rover from its current position on the edge of the crater over to one of the major features of its interior, a 3.4-mile high mountain known as Mount Sharp, where the Curiosity team wants to sample rocks and soil for clues as to the history of Mars' climate and geology.
Meanwhile, Slate has assembled a gallery of some of the coolest pics from the Curiosity mission. After the jump, you'll find a Martian landscape photo, as well as a spectacular pic of Curiosity's landing spot taken by the UA's HiRISE camera aboard the Mars Reconnaissance Orbiter.