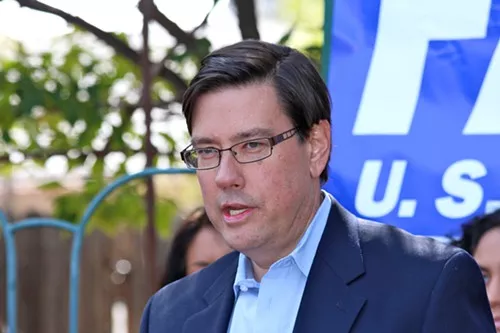 Congressional candidate Steve Farley: "Congress needs to learn a thing or two from Tucson."
State Rep. Steve Farley became the fourth candidate in the race for Congressional District 2 today, beginning with a kick-off speech at the Tucson Botanical Gardens and continuing with a tour of the new congressional district that includes planned stops in Green Valley and Sierra Vista, as well as interviews on local radio talk shows.
Farley, who was first elected to the Arizona House of Representatives in 2006, called for more bipartisanship in Washington, D.C.
"Our nation's problems are too big for any one political party to solve," Farley said. "We need to come together to enact solutions that work for all our citizens."
Farley joins fellow state Rep. Matt Heinz and state Sen. Paula Aboud, as well as political newcomer Nomiki Konst, in the Democratic primary that will be settled on Aug. 28.
A fifth Democrat, Nan Stockholm Walden, is expected to announce her candidacy next week.
Congressional District 2 covers much of the same ground as the current Congressional District 8, where voters are now settling a special election in the wake of the resignation of Congresswoman Gabrielle Giffords.
The field in the Congressional District 8 special election was set earlier this week when nominating petitions were due. More details on that here and in this week's print edition of Tucson Weekly.
The full text of Farley's remarks is after the jump.
Thank you all so much for being here with me today.

This past year has been a difficult one for Southern Arizonans. From Tucson to Green Valley, Sierra Vista and across Cochise County, too many of our families, friends and neighbors have lost homes or can't find a job. Too many of our kids are trying to learn in overcrowded classrooms, or worried about if they'll be able to afford to go to college.

And in a spasm of horror last January, we lost six soaring spirits. Many more lives were changed forever, including our congresswoman Gabrielle Giffords.

We Southern Arizonans did not react in a spirit of anger or revenge. Inspired by Gabby's courage, and that of the other heroes of January 8, we came together in a spirit of hope and love. We moved forward with a renewed spirit of civility and understanding.

And we weren't alone. What happened that tragic day brought people all across the country together. Even in Washington, elected leaders came together and put their partisan bickering aside.

For a while.

Unfortunately, it didn't take very long for them to go back to their old ways — pitting people against one another, threatening to shut down our government to score ideological points, and putting party and ideology above the good of the country.

People in Washington seem to have forgotten what that horrible day in Tucson showed the country.

It's time we remind them.

That's why I stand here before you today — as a proud Democrat, father, husband, small business owner, and Tucsonan full of hope — to announce my candidacy for this fall's regular election for the United States Congress.

Long before that fateful day, our friend Gabby Giffords had already shown folks that people in Congress could get results if they just put aside their partisan bickering and come together.

That is the approach I want to take as your representative.

Our nation's problems are too big for any one political party to solve. We need to come together to enact solutions that work for all our citizens.

I know it can be done — because I've seen it done, right here in Southern Arizona, by the hard-working people of our community. People who don't wake up every day thinking about partisanship, but instead about how to make their family's and community's lives just a little bit better.

We all are so proud to have chosen to raise our families here in Tucson — and we've always worked to give back to a community that has given so much to all of us and our families.

That's why I was so proud to have helped bring together so many people from across our community to create those black and white photo murals of people walking down the street on Broadway just east of Downtown Tucson — not because of all the accolades that mural has won, but because what the people in that mural represent.

The Southern Arizonans captured in the images on those walls walked separately down bustling Congress Street in different eras — but now watch over us together, representing the strength and diversity of who we are as Tucsonans — veterans, ranchers, immigrants, businessmen, housekeepers, artists, scientists, students, and seniors.

And when that mural was dedicated in 1999, more than 20,000 people came downtown to hear the folks on those walls share stories about their love for Southern Arizona.

I am proud to have helped create the Regional Transportation Authority. For decades, people had been bitterly divided over what to build where and how to pay for it. But over a period of years, we did the long-term hard work of bringing people together from opposite sides, developing a comprehensive regional plan, and then explaining it to voters for the first transportation victory in Tucson history, creating thousands of good jobs building vital infrastructure in the middle of the worst recession Southern Arizona has seen.

I am proud to have helped advance a national dialogue on keeping our roadways safe. In January 2007, I was the first lawmaker in the country to propose a ban on driving while texting. Two years later, U.S. Secretary of Transportation Ray LaHood took up the banner and invited me to speak at his first annual conference on distracted driving in Washington DC. Now, 44 states have come together to enact a ban on driving while texting, and thousands of lives have been saved across America.

And as the Assistant Democratic Leader in the Arizona House of Representatives, I'm proud to have not only helped bring our caucus together on many vital issues for our region, but to consistently work across the aisle with Republicans to find common ground.

One issue in which I'm particularly proud of the bipartisan results we achieved is in the area of long-term care for our seniors. After helping to create the bipartisan Senior Caucus in the legislature, I sponsored its first major piece of legislation that makes long-term care more affordable for middle-class families, and which passed out of committee with unanimous bipartisan support.

So, as I said earlier — I know it can be done, because I've seen it done. And if we can do it here in Southern Arizona, there's no reason we can't do it in Washington.

Surely we can all come together to preserve and protect our kids' futures. As the father of a 7th-grader — GiGi — and an 11th-grader— Amelia — I am personally committed to the quality of all our kids' schools. The future of Arizona depends on a well-educated workforce, and a well-educated crop of future entrepreneurs. As the son of two public-school teachers, I understand how hard teachers work, and how much they need our support.

The cuts to our schools over the past few years have been shameful and will have negative repercussions for years to come in our economy. We have to find ways of giving our kids the head start they need to compete in the new world economy, and that means strengthening our schools. That should not be a partisan issue.

We must come together to create good jobs for Southern Arizona. I have owned my own small business for 21 years, so I understand what it is like to deal with governmental regulation and paperwork, and I know what businesses need in order to thrive, expand, and generate the jobs we need so that our economy can grow again.

We need to level the playing field for our small businesses. Too often, Washington is caught up in fights over how much to subsidize large corporations that already see record profits, leaving Southern Arizona small businesses fighting for the scraps. Let's come together to invest in our small businesses, which truly are the lifeblood of our local economy. That should not be a partisan issue.

We must come together to honor and serve those who honor and serve us with their military service. Our veterans have given all they have to protect our freedoms here at home, so we must make sure they have every advantage in their continuing education, their careers, and their health care.

And for the sake of our national security and our regional economy, we must come together to preserve our vital military bases here in Southern Arizona. I have spoken with our community's military leaders and business leaders from the Huachuca 50 over the past few years about base preservation, and — as proof that all of these issues are connected — they have each emphasized that the number-one threat to our bases is the lack of support to our public schools. Protecting our veterans, our military installations, the communities surrounding them, and the vital public services that help their families, should never be partisan issues.

And we must come together to solve the illegal immigration crisis.

I had a conversation with 5th generation border ranchers Jim and Sue Chilton last week, who told me about the toll that illegal immigration takes on their land, their cattle, and their sense of security, as well as on the southern Mexican and Central American immigrants led through their ranch by brutal drug cartels that now control the coyote trade.

What Southern Arizonans like Jim and Sue understand — and what too many people in Washington don't seem to get — is that we don't have to make a false choice between securing our border and comprehensive immigration reform. We need to — and CAN — do BOTH at the same time. Secure the border AT the border AND implement reasonable comprehensive immigration reform to allow a path to legal residency so that there is no more demand to risk one's life with cartel-controlled coyotes to cross the border. And THAT should not be a partisan issue.

Above all, we must come together. All of us. I believe the future of our democracy depends on our ability to work together to solve our nation's problems. People are sick and tired of the partisan bickering, the gridlock, the barbs tossed back and forth.

It's time to send that message to Washington. And we can start right here.

That's why, as a proud Democrat, I am honored to have so many Southern Arizonans from across the political spectrum joining our campaign — not just great Democratic activists who have given so much to build our party and community, but alsoprominent Republicans like former State Representative Pete Hershberger; and military leaders like General John Wickham, the U.S. Army's chief of staff under President Reagan.

These people — like all of you — understand that our challenges are not partisan. They are large, and they are real. But the American Promise is bigger than any challenges we might face. In the tough times of the past year, we Southern Arizonans put aside our differences and showed the nation how to come together and move forward. Congress needs to learn a thing or two from Tucson.

I ask for your support and your vote, but most importantly — I ask for your help, so that we can bring our Southern Arizona spirit of hard work, collaboration, and common sense to Congress. It's time to bring Congress together.

I'm Steve Farley. I have worked to honor Tucson's legacy. Now I look forward to working together to shape Tucson's future. Thank you.