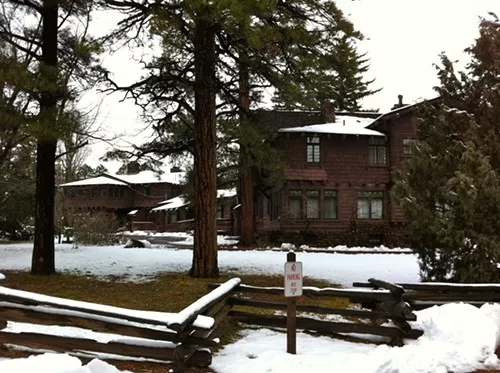 Flagstaff's Riordan Mansion is one state park that remains open.
Budget shortages are nothing new for Arizona State Parks over the past few years, but Gov. Jan Brewer's most recent state budget proposal is slashing the state parks system even more than usual.
The most notable cut of the parks' state-allocated funds shows up in the general funding, zeroed out—slashed from $20 million to zero dollars.
All is not lost for state parks, though, asserts Arizona State Parks Assistant Director Jay Ziemann, who says parks officials have seen the writing on the wall and have spent the last few years planning a way to keep state parks operational.
"We understand that the state is in a budget crisis," he says.
Gone as well is the parks' $10 million Heritage Fund, which came from lottery dollars swept by the state Legislature last year and not replenished for the upcoming fiscal year.
After the dust settles, state parks will be left with about a $10 million budget, money largely collected by the parks themselves through their own revenue sources such as gate fees.
"That's our budget going forward, we hope," barring another Legislative sweep, Ziemann says.
The only problem? The current operating budget for the parks is $18.4 million, meaning some parks may be closed going forward, in addition to the three which are already closed to the public—-Lyman Lake State Park, Oracle State Park and San Rafael State Natural Area.
"Right now, we don't earn enough to pay for all the parks (to stay open)," Ziemann says.