Snapshot
Tuesday, February 28, 2017
Posted By Brian Smith on
Tue, Feb 28, 2017

at

12:30 PM

This little photo series will feature random pics I take on long walks through Tucson—to sort of coincide with my column Tucson Salvage. It's called "Streets of this Town" and it begins today.

I met this guy Dan at Navajo near Stone Ave. He was selling is lovely blue-nose pit Romeo for $200. I didn't have $200.


Thursday, February 16, 2017
Posted By Danyelle Khmara on
Thu, Feb 16, 2017

at

5:06 PM

Since 2001, thousands of migrant have died in the desert of the U.S.-Mexico border. Activists, professionals and migrants talk about the continuing humanitarian crisis in the Arizona borderlands.



Wednesday, October 26, 2016
Friday, July 22, 2016
Posted By Jim Nintzel on
Fri, Jul 22, 2016

at

2:26 PM

With the San Diego Comic Con now in full swing, the Range is bringing you a collection of photos from this summer's Phoenix Comicon, which drew at least 100,000 people and has become one of the biggest events in downtown Phoenix. (A hotel manager told us it was second only to the Super Bowl—and even the Super Bowl wasn't as big in some ways, since so many of the events were off in Glendale.)

Photos by Scott Smith, who had the most massive stash of comics I'd ever seen in my life when I met him in the sixth grade at Lineweaver Elementary.

By the way, if you want a chance to celebrate geek culture at a cooler time of the year, the Phoenix Comicon folks now have a fall event, the Phoenix Fan Fest, coming up Oct. 22-23.

Learn all about it here.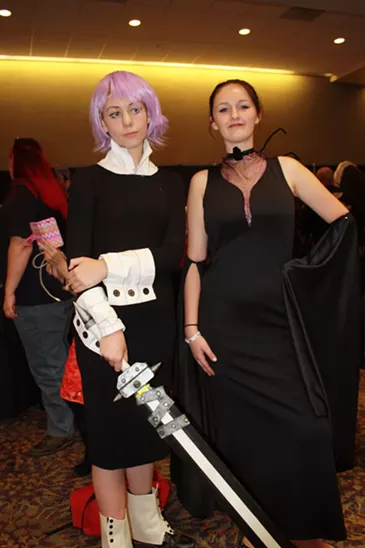 32 slides
Friday, April 15, 2016
Posted By Rebecca Noble on
Fri, Apr 15, 2016

at

3:30 PM


With the UA's spring commencement ceremonies rapidly approaching, it's rare to pass by the iconic Old Main building without seeing a photo session in progress. Today, 90 AVID students from Spring Valley High School in Las Vegas, Nev. pose for a group photo on the stair case. The students, chaperoned by 10 parent and teacher volunteers, visited four campuses across Arizona this week to give students a feel for the differences between public and private, small and large universities.


Posted By Rebecca Noble on
Fri, Apr 15, 2016

at

2:33 PM






Now that the warm weather is here to stay, Tucson's lizards are reemerging and are back to their usual habits of sunbathing on rocks and scurrying across sidewalks ahead of passerby. This lizard was found scrambling around outside of the Arizona State Museum on Friday, April 15 and struck a brief pose.
Thursday, December 17, 2015
Posted By Jim Nintzel on
Thu, Dec 17, 2015

at

2:41 PM

Robots! Books! Sea Monkeys! Local art! This is where we're shopping today. Brighten someone's holiday season and shop local with a visit to perennial Best of Tucson winner

Yike's Toys

, 2930 E. Broadway.
Monday, November 2, 2015
Posted By Chelo Grubb on
Mon, Nov 2, 2015

at

4:00 PM

Burlesque is a big deal locally. Now,

Tucson Burlesque

is (hopefully!) coming to you in book form.

Steve McMackin (you might know him as the art director behind

Edible Baja

) is a photographer intimately familiar with the

Old Pueblo's burlesque scene

:
In October 2010, Black Cherry Burlesque asked me to photograph their 2010 Halloween show. It was a ton of fun, and a real technical challenge to photograph the performers. So I came back for their next show... and the next... and the next… after 5 years, 150,000 photos, 1,100+ acts, 150+ performers and 50+ shows it's time to bring these photos off of Facebook and into the real world. This is the best of the best: about one photo per one thousand taken is being selected for inclusion in the book.
Honestly, just watch
his video
about the project. The photos are beautiful.
The book's existence depends on how its
Kickstarter
goes, and the fundraising effort has a bit of ground to cover: McMackin has
set the goal for $22k and the deadline for Dec. 1.
Ambitious? Absolutely—but there is good reason:
My photos have until now only been seen on Facebook, whose compression algorithms do awful things to photos. Even in print, most people do digital printing for short-run books, which doesn't have the sharpness or deep blacks that will really make these photos shine.

So we are going for the gold and are getting the book printed at an offset press, with CMYK plates, with careful color checking, in a nice thick hard-bound book. If we get funded, we'll start with a 9" x 12" book at 160 pages, but if we meet a few stretch goals, we can get a larger, 12" x 12" book with 200 pages for the same price.

This is going to be a really nice book that you can leave on the living room table. I've picked out a few thousand of my favorite photos, and as soon as the kickstarter funds I'll start designing it. I'm also planning on writing a little about some of the photos and telling some interesting stories, but the focus is burlesque performances.