Posted By Jason P on
Mon, Feb 1, 2016

at

11:00 AM

Traveling alone can be tough. When all of my snooty friends couldn't join me because they had families or careers they couldn't walk away from, I had to get creative in my search for a companion.

I left Tucson in June of 2014, traveling with a group of 500 soccer fanatics to watch the World Cup in Brasil. We were hundreds of strangers from across the US and everyone seemed to bond almost immediately

Then, after two weeks, they were gone.

I next stayed with a friend from Brasil, though she usually had school and I spoke no Portuguese at the time.

Then, after two weeks, I was on my own again.

I worked in Bahia for a month, then left and never saw my coworkers again. I repeated the experience in Salvador. And Ecuador. And Peru. You see the pattern. I was surrounded by people who wouldn't stay in my life. I was alone in a crowd. I wanted a permanent travel companion, flexible and adventurous.

So I made my own.

First came the pattern. I found

this nifty guide

, printed out a PDF of the design, bought some fleece, and got to work.

I started with the arms and legs. They were the easiest pattern, and as I had never sewn before, the least noticeable if/when something went wrong.
Posted By Jim Nintzel on
Fri, Oct 2, 2015

at

1:00 PM

Tucson Modernism Week kicks off today at the Tucson Convention Center with walking tours during the day and a cocktail party from 7 to 10 p.m.

This weekend, you can find vintage trailers at the TCC, the Firebird III at MOCA Tucson and a whole bunch more fun. Here's a

complete schedule of tours, talks, exhibits and all the rest.


Demion Clinco of the Tucson Historic Preservation Foundation

talks about Modernism Week in this week's TW.

Posted By Noelle Haro-Gomez on
Thu, Sep 24, 2015

at

1:19 PM

Ricky Martin.

Some people remember him from his Menudo days, some learned who he was overnight because of his (let's just admit it it) electrifying performance at the 1999 Grammys, and some discovered him through hearing their friends and loved ones brutalize "Livin' La Vida Loca" when it came on radio.

I used to watch him on TV, with my Nana, on an anglo novela called "General Hospital," where he played Miguel, a character whose reason for being is explained on the GH Wiki as "going on a tour."

Taking his boy band days into consideration, Martin has been a performing, touring musician for about 30 years and last night his One World Tour stopped at AVA Amphitheater.

His concert was full of energy, and he kept his fans dancing all night, opening the show with one of his newer singles, "Mr. Put It Down." But the crowd went crazy when he went into his back catalog, singing classic songs like "Vuelve," "Livin' La Vida Loca," and "Tú Recuerdo."

During the show, Martin announced that one of his newest songs, "Disparo al Corazón," from his album "A Quien Quiere Escuchar," has nominated for a Latin Grammy.



His next stop will be in Phoenix on Sept. 26. at Comerica Theater. Tickets are still on sale, for those of you who missed last night's show (or those of you who want a double-dose of Mr. Martin).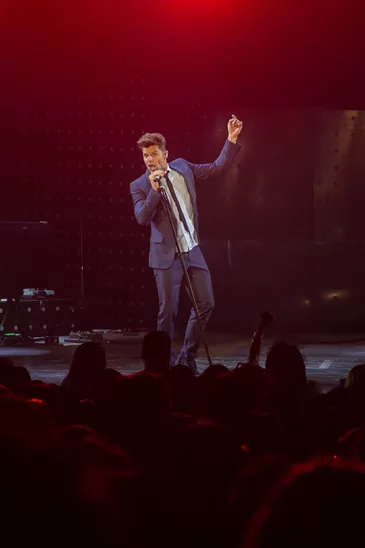 Ricky Martin
Ricky Martin and his One World Tour stopped at AVA Amphitheater.
Posted By Jonathan Hoffman on
Wed, Aug 26, 2015

at

11:00 AM


My friend Ron was halfway through a Kurt Vonnegut novel when he decided to reach out via Facebook for assurance that his particular book would get better. I replied, "It doesn't." A while later he replied saying that I was right. The subject of Vonnegut reminded me of one of his recurring characters, Kilgore Trout. Trout was himself a science fiction writer who could only achieve publication as filler for pornographic books and magazines (no internet in the 70's). Kilgore Trout, in turn, reminded me of a hilarious, wildly imaginative, and sometimes disturbing 1975 novel Venus on the Half-shell, by Phillip Jose' Farmer, originally published under the pen name "Kilgore Trout".

If you have yet to read it, Venus on the Half-shell makes for an absorbing, fast paced, escape from our crazy times. I told Ron as much.

Most authors will start a novel by painting a picture of the setting, then begin the introduction of the characters. Farmer starts Venus with the protagonist, Simon Wagstaff, having sex atop the Great Pyramid of Giza. Next came the great flood, literally. An alien race called the Hoonhor traveled from planet to planet checking out the state of evolution. If the state was not well, they cleansed it. Earth was one of these. The Hoonhor caused all the water vapor in the atmosphere to precipitate at once, washing the planet, and giving evolution another shot.

Our hero, Simon Wagstaff, managed to float around long enough to float by an abandoned Chinese spacecraft which he boarded shortly before running aground on, where else, Mount Ararat. After learning how to fly the craft, Simon left Earth and traveled the galaxy far and wide to find the answers to unanswerable questions, like, "Why are we created only to suffer and die?"

The novel starts out with a bang, but that is only the first in a number of sexual adventures. There was, for example, the planet Dokal where all the people were identical to humans with the exception of possessing a five to six foot long prehensile tail, naked, save for a tuft of fur at the end. The Dokals insisted on fixing his lack of tail problem, and after the installation, he found it to be quite useful. Useful, he found, in ways he had not imagined, like when the King's young daughter named Tunc (an anagram) seduced him and... well, I'll leave it there.

Occasionally the humor could be a bit disturbing. As it turned out, faster-than-light travel was made possible by sucking energy from a parallel universe to feed the engine. Unfortunately, the globs of energy were actually living beings. They died in the process. The engine, in fact, transmitted the sound of their wailing death cries - the faster he went, the louder they became. Simon found it terribly unnerving.

Farmer was a great admirer of Vonnegut, and through the persona of Kilgore Trout he was able to take the Vonnegut style to far higher level of humor and creativity. Writing Venus was a joy for Farmer, and it shows in the writing. He speaks of laughing out loud while typing it, and concluded, "What a blast it was!"

Venus is a great escape novel for the science fiction buff, and the joy of the author in its creation touches you. Finish your summer reading with this!

Oh yeah, Ron's book that did not get better was Slaughterhouse Five.


Posted By Jim Nintzel on
Tue, Aug 25, 2015

at

1:30 PM

Born to Run

turns 40 years old today. Slate looks back at

Springsteen's struggle to get the album recorded in the early days of his career:
Bruce kept struggling to get on tape the sound he had in his head, and at times it seemed like he was ready to give up. Long nights at the studio ended in misery, the atmosphere tense and rancorous. To stay awake, engineer Jimmy Iovine would take a piece of gum, throw it away, and chew on the aluminum wrapping. In the end, Springsteen was miserable: "After it was finished? I hated it! I couldn't stand to listen to it. I thought it was the worst piece of garbage I'd ever heard."

He almost didn't release it. But Jon Landau, who had stepped in as a producer, helped persuade him to let go. According to writer Dave Marsh, Landau called Springsteen and said, "Look, you're not supposed to like it. You think Chuck Berry sits around listening to 'Maybellene'? And when he does hear it, don't you think he wishes a few things could be [changed]? Now c'mon, it's time to put the record out." The album appeared in 1975, and it launched Springsteen toward megastardom, getting him on the covers of Time and Newsweek simultaneously. Reviewing the album in Rolling Stone, Greil Marcus proclaimed, "It is a magnificent album that pays off on every bet ever placed on him—a '57 Chevy running on melted down Crystals records that shuts down every claim that has been made. And it should crack his future wide open."
The Wall Street Journal assembles
vintage performances of all the songs on the album here,
Michael Calia notes:
Posted By Chelo Grubb on
Mon, Mar 30, 2015

at

4:00 PM

It's happening again, movie lovers: the beloved, gender-bending animated flick "Mulan" is being turned into a live action film.

From

Entertainment Weekly:
Disney has purchased a script from writing duo Elizabeth Martin and Lauren Hynek with Chris Bender and J.C. Spink attached to produce.

No release date or casting has been announced for the in-development project, but it can be added to the growing list of live-action takes on Disney's vast catalog of beloved animated films. Cinderella recently debuted No. 1 at the box office and has so far earned over $330 million worldwide.

Disney also has a live-action Beauty and the Beast in the works, starring Emma Watson, coming in 2017, while another Alice in Wonderland is set for 2016. A new The Jungle Book is also planned for 2016, and a live-action Dumbo with Tim Burton directing is said to be in the works.
Don't for get to add (semi)recent character revivals Sleeping Beauty (in "Maleficent") and every character from "Into the Woods" to the list of five (
five
!!!) films EW listed in that blurb. It's 1995 all over again.
Also, "Dumbo" is happening? That'll be interesting.
Posted By Chelo Grubb on
Wed, Mar 11, 2015

at

11:00 AM

You're not over Firefly being cancelled, I'm not over Firefly being cancelled, and Nathan Fillion is

super not over

Firefly being cancelled. Luckily, Alan Tudyk is here for us and he's gonna be making a spaceshow. A spaceshow! The thing is, everybody's favorite spacepilot (and spacecaptain!) is hesitant to trust a network with this new spacebaby—After all, it didn't work out great the last time. They're going the crowdfunding route instead.

The plot, as told on the

Indiegogo

page:
Wray Nerely (Alan Tudyk-Me!) was a costar on Spectrum, a sci-fi series which was canceled -Too Soon- yet became a cult classic. Wray's good friend, Jack Moore (Nathan Fillion) starred in the series and has gone on to become a major movie star. While Jack enjoys the life of an A-lister, Wray tours the sci-fi circuit as a guest of conventions, comic book stores, and lots of pop culture events. The show will feature all the weird and crazy things that happen to Wray along the way to at these events these events.

It's called Con Man, because Convention Man doesn't sound as cool.
I don't want to say this is better than more Firefly but (avert your eyes if you haven't seen Serenity) I'm just not sure I could love the show as much without Wash.
Also, Felicia Day, Seth Green, Amy Acker, James Gunn and Gina Torres! Whaaaaaaaaat?!